Something I wanted to do with a follow-up to a maternity shoot I did months ago. I got a couple other non reflection shots I want to work on that I happened to get at the same time; but this one came out pretty much how I wanted it to. In fact, I pictured the mother not interacting with the picture and the baby laying there; but of course you have to kinda go with what the baby does. I actually like the fact that he was staring at the camera better that just laying there sleepy like. Something more powerful about that.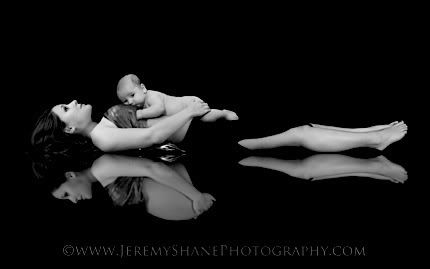 You can see a bigger version at my deviantart page if you wish:
Click here
And
thank you
so
very much
to Amber for letting me run into the middle of her day while she is in the middle of not only taking care of a newborn and her little girl, but also getting ready to move out of the country.
UPDATE: The response on various sites I have put the picture on has been great. Thank you to everybody for your comments. This picture after one day is already the sixth most popular photo in my deviant gallery and has about 60% as many favorites as other pictures that have been up for nearly two years now. On other sites where I don't have as strong a presence, the photo has still received about five times the amount of favs and comments as my other photos. I'm glad everyone has liked the work so far and I've also seen several tell me they had to look twice to see the baby vs belly reflection.