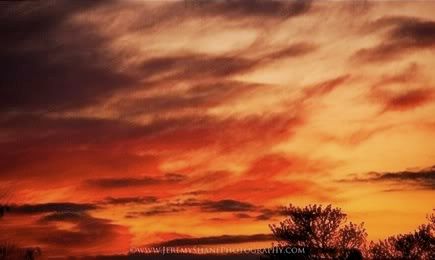 First off, from the picture above. It sucks not getting a sunset on the ocean here on the east coast. But anyways... I was out and about today running errands. It was freezing, mostly because of the wind.
Aside from normal life stuff, I was checking out various framing shops, I think I'm going to start working on doing some custom framing to go along with my photography. It would be a nice offer if I can afford to do it and have the time to do it with some package offers. I also want to matte and frame some prints to sell when I have features as well. And had to go to city hall for some business stuff.
I also finally got around to finishing my personal myspace that I have been trying to work on for a few weeks now. I just was getting frustrated working on it between things, so I just decided yesterday to hammer it out real quick. Now I can get back to working on the other sites I'm supposed to. I need to finish my friend Amy's myspace design and then on another's site who contacted me on myspace. I also have to finish up a few posters and I have three photoshoots to schedule and a wedding meeting to get some things together for. I have also had a lot of offers from friends and family about areas to take my business into because I've always talked about not wanting to be just a wedding photographer or portrait photographer. Sometimes all the ideas and directions to take can be overwhelming. They are all great ideas and would definitely like to expand, but I'll have to take it slow.
Hmmm, seems like I was a lot busier than that today, but when I wrote it all out, didn't take very long. I want to play some Call of Cuty: Modern Warfare. First Person shooters are about the only video games I play unless the boys make me play something with them. I beat it on christmas when I got it, but haven't had much time to go back and play on harder levels and have some more fun. I need some fun. Maybe I'll stay up past my bedtime.